If you're having trouble in choosing between WordPress or Blogger, then you're not alone.
Many start-up bloggers are faced with the hard question, "Which is really better, WordPress or Blogger?"
Even those who already made up their mind still wonder if they really made the right choice or not and they probably think what they might have been missing if they made a different choice.
To settle this worry and solve the ever-growing wonderment, I would like to bring to you a comparative look between Blogger and WordPress.
Why Blogger and WordPress, you may ask? Well, for one good reason, WordPress is the leading CMS today, while Blogger is a rising CMS star! So there are more and more people who are squeezed between these two choices.
Although I'm a huge fan of Wordpress, I will try my best not to be biased (hopefully). Okay, let's get statrted!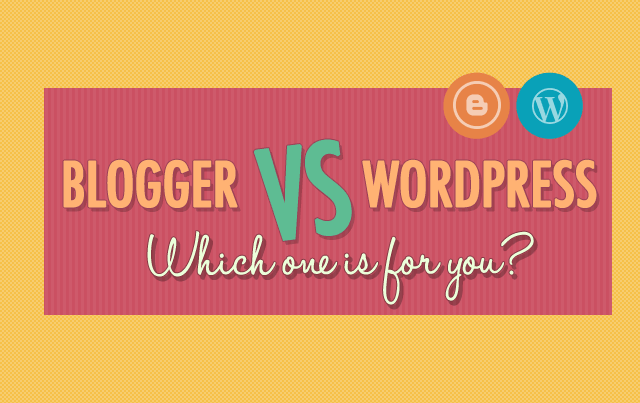 Let us take a look now at the different factors we need to consider when making the fateful decision.
What is blogger?
Blogger is owned by Google and it is a platform that will allow you to create blogs. You can use it for your personal or business use. Since it is owned by Google, then it might be a great choice (as it is a common notion today that all Google's products are amazing).
Advantages
Free – Blogger is absolutely free, though you have to spend certain amount of money to access their premium features.
Easy to set up – all you have to do is create an account, provide important information, determine your DNS settings, and start blogging.
User-friendly interface – the interface is quite easy to use and any newbie can easily get familiar with the tools.
A place for newbies – if you are just starting to explore the world of blogging, then Blogger is the best place to be.
Maximum security – if it is owned by Google, then it should have a very tight security. Google is known to be almost hack-proof and they have the latest tools, software, and programs to ward off hackers and other malicious activities.
99.99% uptime – Google is known to be consistent, fast, and reliable. So you can expect your website to be up and running 24/7.
Easy integration of other Google Products – Google's primary aim is to be everything for you. Therefore, you can easily connect your Blogger website to other Google products such as Gmail, YouTube, Google+, Google Analytics, Google Webmaster Tools, and more. This is truly convenient as you don't have to create separate accounts.
Google AdSense Integration – if you are aiming to monetize your blog site, then you will surely love the Google AdSense Integration. AdSense is the number one third-party advertising company today and it has the largest pay-per-click rates.
Disadvantages
Google owns your website – according to their terms of service, Google has the freedom to use your work. They can also change features and functionalities of Blogger without your consent. This is the primary disadvantage of Blogger.
Lack of plugins – plugins are very important software to extend the functionality of your website and Blogger does not have enough plugins to allow you to personalize your website.
Limited number of blogs – you can only upload 100 blogs per account; however, the number of your posts is unlimited.
One permalink structure – your URL link's structure can be only displayed only as http://www.domainname.com/YYYY/MM/Post-Name.html
Limited page size – you can only use 1MB of file size in each of your page.
Limited storage space - there is a 1GB limit for storage space. You can have up to 15GB shared storage if you upgrade to G+. You can check your storage status here.
Less advanced features - just like many other people say, you can't really do anything you want with Blogger compared to Wordpress. To view more limits on blogger, click here.
What is WordPress?
There are two WordPress products; WordPress.com (free) and WordPress.org (self-hosted). But in this post, I am going to talk about Wordpress.org, the self-hosted one which allows you to start a blog site with full control as you have your own hosting & own domain.
Advantages:
Content ownership – you own your content and WordPress won't mess up with it.
Vast community – there are millions of people who are using WordPress and you will never run out of people whom you can ask for support.
One click start – WordPress is absolutely easy to use and set up.
Overall professionally looking – the design of WordPress – from dashboard to post – are incredibly impressive.
Themes – thousands of themes that you can choose from both free and paid.
Complete control – you don't have to be restricted by strict terms of service.
Plugins – the functionality of your dashboard can be extended with the help of thousands of plugins.
Customization – even without coding expertise, you can add plugins and customize your website. All the coding tasks are left to their staff.
Disadvantages:
Hosting cost - you will have to pay for your hosting (monthly or yearly).
Security – there had been reports that WordPress can easily be hacked compared to other CMS. However, this can easily be solved by observing preventive measures, though this may mean extra expenses. I also wrote about how you can harden the security of your Wordpress.
Needs backing-up more often – since WordPress is not that secure; you should backup your files just in case of hacking or system failure. There are some Wordpress plugins available to do an automatic backup or your host may offer this.
For intermediate users – since there are more features in WordPress, you need more time to explore and be familiar with the features.
So the winner is …
To end our comparative review, we need to decide which is really better.
If truth be told, there's no one-size-fits-all answer here and the answer is clearly a case-to-case basis. To answer this question, you need to look into yourself and assess your need, preference, and budget.
If you like simplicity and less hassle, I would recommend Blogger. However, if you're aiming to establish yourself in blogging business in the future, then WordPress is perfect for you.
Blogger is limited when it comes to functionalities so it can be a good choice if you are looking for basic features.
However, I would not dare to say that WordPress is for the advanced users only as it is perfectly user-friendly as well.
So the final answer lies within you.
Useful Resources
In case you need help with the transfer..
I can always help! Click the image below for more details.